Oval Dry Chemical Fire Extinguishers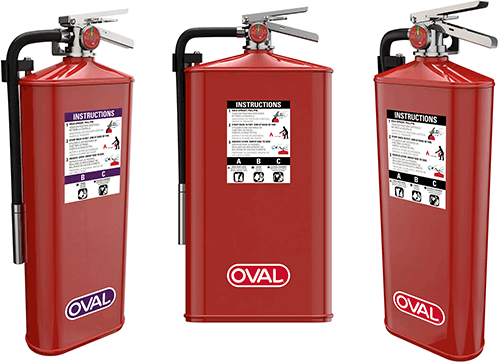 Always complies with protruding object rules required by ADA, CMS,NFPA-101 LSC, IFC, ANSI A117.1, and AODA
The Oval button hook mounting system reduces the chance of the fire extinguisher falling from its hook.
Stainless steel pull pin
Durable powder coat finish
Stainless steel handles, bracket and button hook
Serviced same as others, per NFPA 10 requirements
Tempered aluminum valve and nozzle
Labeled "Meets DOT Requirements"
Corrosion resistant, tempered aluminum vessel
Labeled per UN1044 requirements
Heavy duty aluminum siphon tube
Most parts are interchangeable
Model 10JABC-MR & 10HABC-MR are MRI safe. Use non-magnetic wire or plastic tie to affix annual inspection tag, or use decal tag
Made in the USA from 85%+ domestic materials
Model
10JABC
10HABC
10HPKP
Price *
$462.99
$449.99
$476.99
Agent Type
Dry Chemical
Dry Chemical
Purple K
Capacity lbs/kg
10 LB (4.6 kg)
10 LB (4.6 kg)
10 LB (4.6 kg)
U.L. Rating
4A: 80B:C
4A: 80B:C
80B:C
Weight
24 LB (11.1 kg)
22 LB (10.1 kg)
22 LB (10.1 kg)
Height
22" (56 cm)
23" (58 cm)
23" (58 cm)
Depth
3" (8 cm)
3.5" (9 cm)
3.5" (9 cm)
Width of Vessel
10" (26 cm)
8" (21 cm)
8" (21 cm)
Width Overall
11" (28 cm)
9" (23 cm)
9" (23 cm)
Best used for
Cabinet
Surface
Surface
Range
10-15FT,
3-4.5m
10-15FT,
3-4.5m
10-15FT,
3-4.5m
Discharge Time

22 sec.

22 sec.

22 sec.

Meets DOT Requirements
Yes
Yes
Yes
Complies with NFPA 10
Yes
Yes
Yes
Meets ANSI/UL-299 & ANSI/UL-711
Yes
Yes
Yes
Meets CAN/ULC-S504 & CAN/ULC-S508
Yes
Yes
Yes
Button Hook Included
Yes
Yes
Yes
Warranty (From date Manufactured)
6 years
6 years
6 years
* Plus shipping and handling. Tags are not included. Inspection not included.
Fire Extinguisher ratings
Ordinary combustibles or fibrous material, such as wood, paper, cloth, rubber and some plastics.
Flammable or combustible liquids such as gasoline, kerosene, paint, paint thinners and propane.
Energized electrical equipment, such as appliances, switches, panel boxes and power tools.