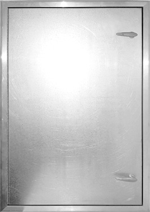 Download the Submittal/Data sheet here

Request a Quote
Specifications:
For Walls Only
Door: 24 gage galvanized steel, double panel.
Frame: 1 15/16" wide x 1 1/2" deep extruded aluminum with mitred corners.
Hinge: Continuous steel piano hinge-opens 180°.
Insulation: Door panel filled with 1" thick fiberglass insulation.
Gasketing: 1/8" thick x 1/2" wide closed cell neoprene gasketing between door and frame.
Latch: Dual acting compression handles-operable from both sides. Units 48" high to have 3 handles.
Finish: Mill finish.