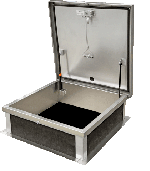 Download the Submittal/Data sheet here
Download the Installation guide here
Download the Maintenance guide here
Download the TSP-1 Installation guide here
Download the SLE-Y Installation guide here
Specifications:
Curb: 14 gauge galvanized steel with 1" thick Polyiso
(R-6) insulation with Fiberglass liner at curb exterior. Curb is 12" high, with 3.375" wide bottom flange and pre-drilled mounting holes.

Hinge:11 Gauge Galvanized steel pivot hinge
Latch: Stainless Steel T Handle
Finish: Galvanized Steel: Grey baked enamel polyester
Cover: 14 gauge galvanized steel in box type design with 1" cellulose Insulation and 22 gauge galvanized steel/ cover liner. Continuous EPDM weather/draft seal gasket is attached to inside of cover, providing a flush tight fit. The cover is designed to support a live load of 40 pounds/sq ft.